Description
ThermoNuclear is a sub-miniature vacuum tube based overdrive. The first stage is a MOSFET with switchable mu-amp. The second stage is a self biased sub-miniature pentode with switchable triode/pentode. Then there's a tonestack based on the EH Big Muff. Finally, there's a blend control and another MOSFET stage for some gain recovery after the tonestack. ThermoNuclear will crush and destroy your tone with a pleasing warm tubey goodness.
Although the filament of the tube will glow, it's not a lightbulb, and the level of glow may vary between different tubes.
About the LEDs
There are 3 LEDs in this design:
The two on the main PCB are being used for their diodic properties to protect the MOSFETs. Whether they light up or not is irrelevant (they might, just a tiny bit).
The third LED on the sockets PCB is used to bias the tube's cathode. This has the same effect as a bias resistor with a perfect bypass capacitor. The LED will slowly come on as the valve warms up.
FAQ
Q: Is this a Valvecaster/Safety Valve variant? 
A: Ha! In as much as you are a fish variant. No!
Q: Is the tube fragile?
A: Physically, yes – don't drop it. Electronically the tube is as strong as a great mountain range which has stood for millions of years against wind, weather, war, plague, pestilence, famine and fascism.
History
Millions of years ago we created the Thermionic Overdrive pedal. Last year (2021), this one (see photo below) came back in for repair. We fell back in love and decided to recreate it as a Eurorack module.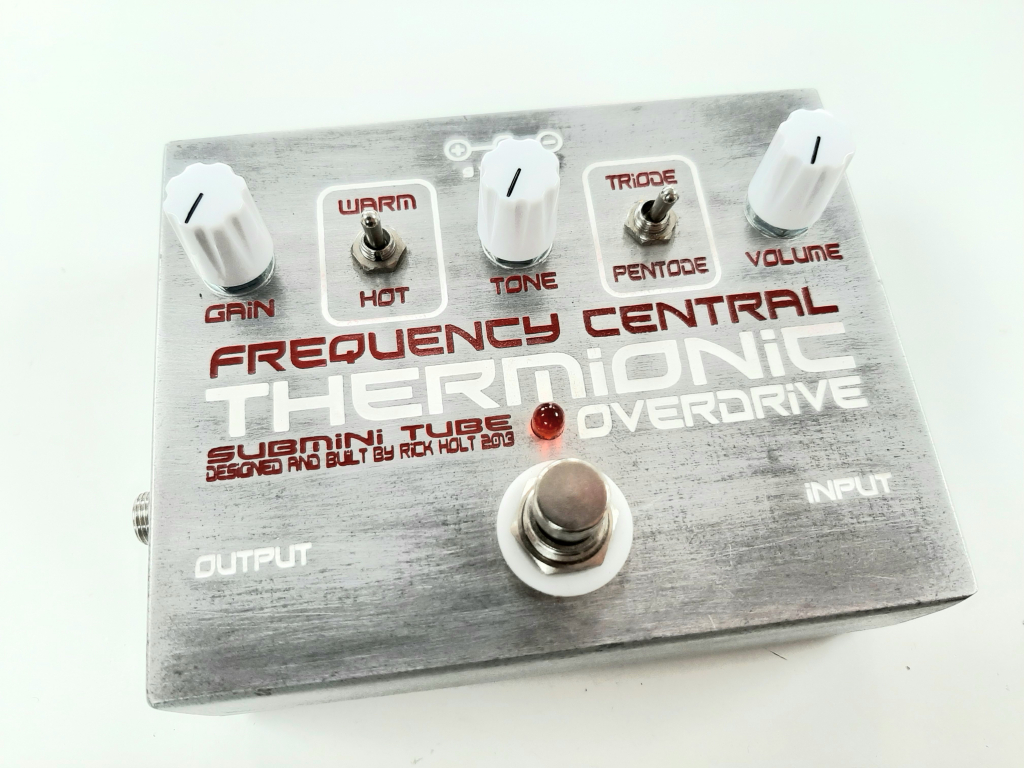 If you think that Frequency Central should return to commercial pedal building, please pay for a huge billboard in your village/town/city saying "I think that Frequency Central should return to commercial pedal building" and send us a photo.