Description
"Hi, my name is Vlad, I am a musician and also owner of Lovetone. Can we have a chat?"
It was with these few auspicious words that I first contacted Frequency Central almost exactly a year ago. Nobody could have foreseen that it would result in the feral monster that you see before you now! Welcome to the Fromage, based on the legendary (and now eyewateringly expensive) Big Cheese as used by a seemingly endless procession of rock royalty and widely considered to be one of the greatest fuzzes ever made.
After a few initial conversations with Rick it became clear that Eurorack, together with a corresponding standalone version was the way to go, which happened to fit perfectly with my long standing aim of bringing guitar tonality to the modular world, the power and flexibility of CV gear to players, and all of the aforementioned to studio users too. To that end the Fromage is designed to work interchangeably across all (unbalanced) operating levels (*please see below). Lovetone users were always well represented by producers/mixers as well as experimenters and this just takes things to its logical conclusion.
The Fromage is the culmination of many years of work utilising my wide ranging experience in both the performance and production side of the music industry so props to Frequency Central for enabling it to happen. Most of the constituent parts have been tried and tested but never previously brought together in one place and when I first heard the prototype it totally exceeded my expectations. I hope it will yours too. Not designing the original pedals has left me free to let my musical instincts run riot and I am thrilled beyond words to be able to share the results and see where others will take it.
If you have any questions regarding functionality feel free to email me at info (at) lovetone (dot) com.
Thanks and bon appetit!
Vlad
Lovetone owner and co founder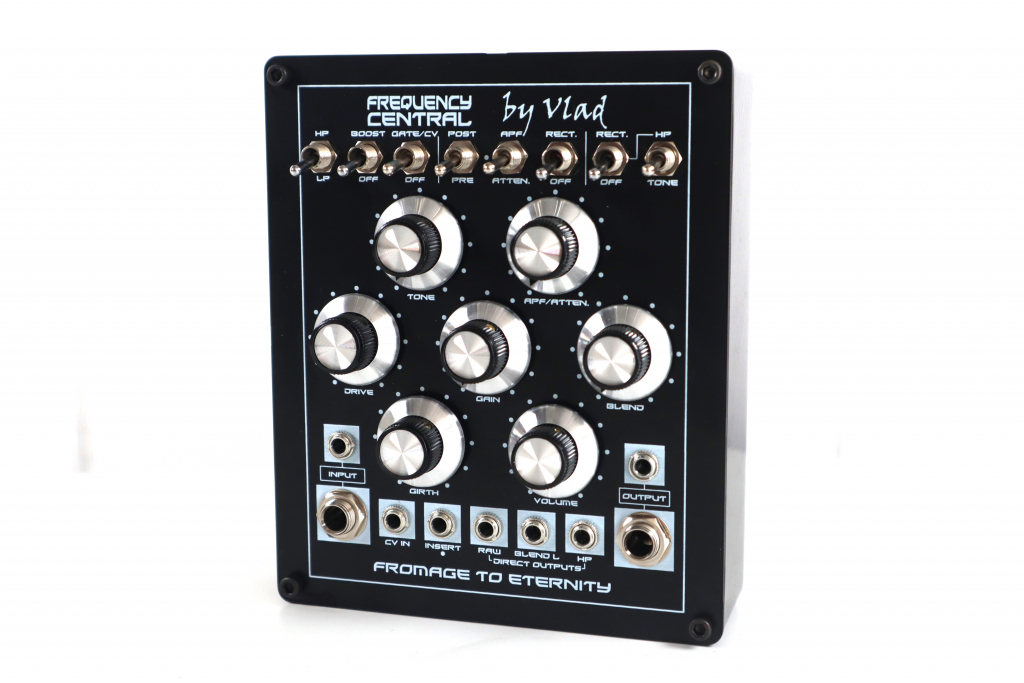 Featuring:
▪︎ unencumbered stomp box style core circuitry that retains all of the essential character
▪︎ continuously variable Input and Output gain to fit seamlessly into any work flow*
▪︎ continuously variable (up to 50) shades of octaving
▪︎ dual signal paths enabling
▪︎ parallel processing
▪︎ manual phase shifting
▪︎ stunning spatial/stereo effects (turn your 2D sound into a cubist painting!)
▪︎ summed Inputs enabling multiple feedback configurations including self oscillation
▪︎ selectable High Pass or Low pass input filters
▪︎ additional "full fat" clipping mode
▪︎ twin dual mode rectifiers
▪︎ split waveform filtering
▪︎ extended gain range over and above what is already ridiculous
▪︎ extended range at the clean end taking the unit out of conventional fuzz territory altogether
▪︎ unique sustain/decay harmonic enhancer (its not over until the guitar sings)
▪︎ CV control of the signature "gated" sound enabling pulsing, chopping and audio rate mangling
▪︎ High impedance Insert point
▪︎ 3 permanently available buffered Direct Outs (including unpasteurised for those with the stomach for it)
▪︎ pair of identical Outputs
* at instrument level it is not possible to reduce the output volume below unity gain when using both signal paths. In practice this should seldom present any issues and can easily be resolved if necessary with the use of a standard volume pedal.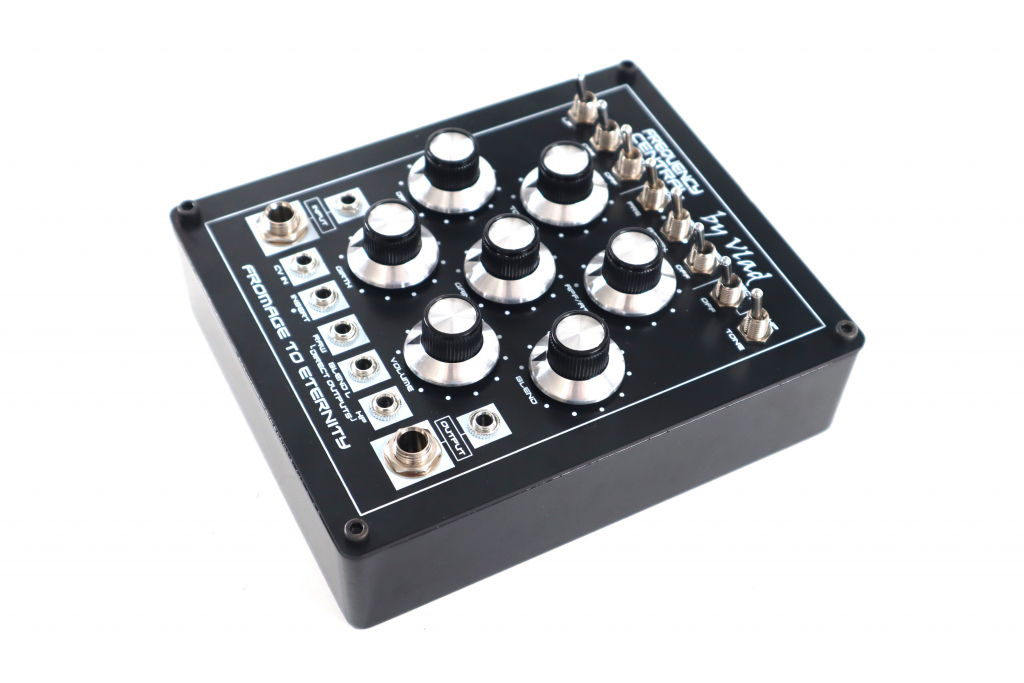 Potential Applications:
▪︎ set everything to default for a simple Drive/Tone/Volume experience
▪︎ delve deeper and prepare to enter the biggest fuzz rabbit hole on the planet
▪︎ connect to Insert and out of Blend L for a completely independent (AC coupled) utility with its own switchable Attenuverter/All Pass Filter and Rectifier (Volume is shared between both signal paths but if employed on its own this can be used to boost an instrument level signal to line or Eurorack level)
▪︎ mount waist high on a stand for real time live tweaking and impress your audience with your one handed playing
▪︎ split the signal between Input and Insert for parallel processing (no extra buffering required) and set the wet/dry mix on the Blend pot
▪︎ connect the unit permanently to an aux send and return via channels with filters for the ultimate in flexible parallel processing where a little can go a long way to stiffen, texturise and refocus (works even in mono when folded back into a stereo stem)
▪︎ insert into any position in a switching system and use Gain to set the desired level going to the drive circuit (absolutely critical to the overall tone) irrespective of the signal level at that point in the chain
▪︎ configure for self oscillation to make a crude noise machine (where most of the controls do something) and create rhythmic effects with CV
▪︎ connect Blend L and Output as stereo outs and use Blend as a width control!
▪︎ connect Blend L and Output to a simple A/B switcher for a choice of 2 single path sounds
▪︎ use Gain to fine tune mono or stereo "reamping" from any source
Fromage To Eternity is available as either a Eurorack module or as a standalone unit. The standalone unit comes ready to plug and play with it's own built-in precision power supply which converts 9V DC to +/-12V DC, allowing the unit to operate at LINE and Eurorack signal levels. 9V DC power adapter is supplied as standard.